Patron's Statements
Mojgan Khadem
Film writer and director
Board member of Adelaide International Film Festival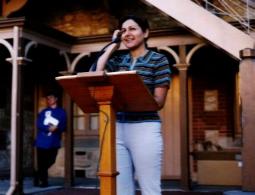 I am a film-maker, an Australian citizen originating from the Middle East, and a member of the Baha'i faith. I make a concerted effort to live and work by a set of core values that are entirely congruent with those of FairShare International. Sometimes I succeed, and at other times I fail, but I don't give up and I keep coming back to my effort to be an ethical world citizen and artist.
I am honoured to support FSI as a patron, because it is an individual initiative with the potential to prove that the 'power of one' can bring about unimaginable changes in our society, and have international repercussions.
What impressed me from my very first introduction to FSI by one of its founders was the opportunity for action instead of words. I believe 'Love manifests its reality in deeds, not only words – words alone are without effect'.
So many people talk about wanting to 'make a difference' or create a 'value revolution' but never have the time to actually make that difference or set themselves new values. FSI offers a clear and easy pathway to a fair and honest realisation of the intentions of so many of us whose words have never led to concrete deeds. Giving lots more of our money, time and talents while taking much less of earth's abundance for ourselves is, indeed, that value revolution that will make a difference!
FSI's 5.10.5.10 principle could become a cliché of Australian society – just like slip slop slap. Wouldn't it be good if Australia was known for its determined stance on Fairness and its widespread advocacy of principles that ensure a much more equitable distribution of wealth and natural resources? Let's advance Australia fairly and watch the world follow!
Peter Singer
Practical Ethicist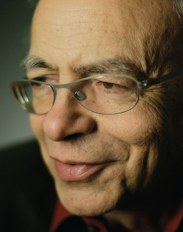 I grew up in Melbourne and studied history and philosophy at the University of Melbourne. I then went to the University of Oxford to do a postgraduate degree in philosophy. This was at the end of the '60s, a time that was right for new ideas.
At that time moral philosophy, or ethics, was largely concerned with analysing the meanings of moral terms, and had nothing to say about the great issues of our day. But just a few philosophers were starting to think that ethics should have something to say about these issues.
Around that time there was unrest in what was then East Pakistan, and is now Bangladesh. The Pakistani Army suppressed the unrest with great brutality, and millions of refugees fled across the border to India. India, then a very poor country, could not possibly feed them all. The affluent Western nations gave some aid, but not nearly enough. That got me thinking about our priorities, and asking why we were not giving more.
I wrote an article about it that has been reprinted many times since. I later discussed the same issue in my book Practical Ethics, where I suggested that we should, as a minimum, give 10% of our income to aid for the world's poorest people. I started doing that myself while I was at Oxford, in the early '70s, and when I started to earn more, I've increased the percentage.
In addition to helping humans in poverty, I think we should stop exploiting nonhuman animals for trivial purposes of our own. The worst example is factory farming, which confines billions of animals in miserable conditions for their entire lives. And why? It serves no nutritional need – people eat meat and other animal products because they like the taste. That's not a good enough reason to inflict misery on sentient beings.
For more than 20 years I was a professor at Monash University, in Melbourne. For the last five years [now ten–Ed.], I've been Professor of Bioethics in the University Center for Human Values at Princeton University, in Princeton, New Jersey.
I'm a member of the Leadership Council of Oxfam America, and president of Animal Rights International, and of The Great Ape Project. I became a patron of FSI in 2002, because there is a real need for more people to get involved in thinking about what is involved in living an ethical life – and in doing it.
Molly Harriss Olson
Director, Eco Futures Pty Ltd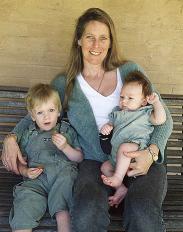 Ms Olson is a Director of Eco Futures Pty Ltd, an Australian-based international policy firm working on building sustainable strategies with business, government and civic leaders. Ms Olson is the Convenor of the national Business Leaders Forum on Sustainable Development, Editor of Eco Futures Magazine, and an internationally recognised leader on sustainability.
Between 1995–97, Ms Olson was President and CEO of The Natural Step, USA, a non-profit environmental education organisation working with business leaders. She was also the US representative on the steering committee of Sweden-based The Natural Step, International.
Ms Olson worked in the White House as Executive Director of the President's Council on Sustainable Development. Appointed by President Clinton in 1993, the 25àmember Council was a groundbreaking partnership whose membership came from high-ranking representatives of industry, government, environment, labour and civil rights organisations. The Council was commissioned to develop a broad based national action strategy on sustainable development, and in March 1996, it submitted its report, Sustainable America: A New Consensus, to President Clinton.
Ms Olson was the sustainability expert for the Opening Plenary of the World Economic Forum's 2000 meeting in Davos. She serves on the Boards of the Australia Institute, Global Action Plan, Clean Up Australia, and has also served on the Boards of the Australian Building Energy Council, the Environment Management Industry Association of Australia, the Eco-Efficiency Consultative Group, The Australian National Committee for the Earth Charter, and the International Advisory Council for the Foreign Policy Association. She was the Chair of King Carl Gustaf's Business Leadership and the Environmental Symposium, Stockholm, Sweden, and the Myerhoff Visiting Scholar, Series on Global Civic Responsibility, Goucher College, Baltimore, NM. "Business Class" Magazine recently identified Ms Olson as a "Woman to Watch into 2000".
Ms Olson earned her Bachelor degree in Environmental Studies and Natural Resource Economics with honours from the University of California, Santa Cruz. She was a distinguished Bates Resident Scholar at Yale University where she earned a Masters in Environmental Policy from the School of Environmental Studies. In January 1995, Ms Olson was selected to be a member of the World Economic Forum's Global Leaders for Tomorrow program, made up of individuals worldwide born after 1950, who have distinguished themselves as recognised leaders in the world community.